Security Detection Hand-Held Metal Detector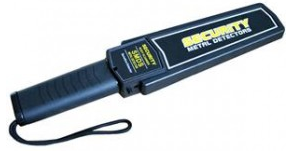 Features
Ultimate sensitivity
Does not require adjustments
Rugged, high-impact ABS case with reinforced
coil compartment
Detects medium sized pistol from 9″; large knife from
razor blade and box cutter from 3″; foil-wrapped drugs and tiny jewelry from 1″
Large 10″ scan surface for quick, thorough scanning
Charger jack for 9V rechargeable battery recharge
Sharp audible alarm and bright red LED light indicates the detection of metal
Vibration function enable officers to work silently
Green LED light indicates on
Amber LED indicates low battery
Red LED indicates alarm. The presence of metal will be indicated by
an audio warning tone and a red light coming on. The sensitivity is adjustable.